Air barriers, vapor barriers, and water resistant barriers each have a function to help seal the areas around concrete building and decorative concrete projects to minimize issues with air leakage, moisture vapors, and water seepage.
Air Barriers for Concrete
Air barrier materials can be applied to the inside or outside of a building to control air leakage into and out of the building envelope. An example of an exterior solution is the house wrap shown to the right.
Vapor Barriers for Concrete
Vapor barrier materials help to eliminate water vapors from coming through cement. Rain and ground moisture can seep through concrete and decorative concrete floors creating damp concrete and potential mold issues. Vapor barriers will help the concrete stay dry.
Air and Vapor Barriers Are Used For:
Insulating cavity wall of brick and concrete block or other similar masonry
Vapor barriers under concrete slabs
Waterproofing basements walls
Crawl space insulation
Waterproofing with Water Resistive Barriers
Taking steps to waterproof concrete includes the use of water resistive barrier materials on the exterior of a building, the outside of the concrete. Moisture can be found in most concrete structures and sub-structures. Treating and maintaining your concrete with waterproofing solutions will help protect your concrete.
Waterproofing Solutions and Systems Are Used For:
Commercial basements, roof tops, and parking structures
Residential basements, cement foundations, and garages
Concrete product specialists can help you identify the barriers appropriate for your concrete or stamped concrete project.

---

CALL or EMAIL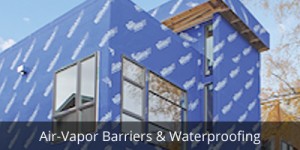 Air Barriers

Vapor Barriers

Waterproofing / Water Resistive Barriers
---
Call (856) 829-7325 to Order