Concrete Countertop Supplies
Concrete has long been used for constructing countertops because it is flexible and can mold to any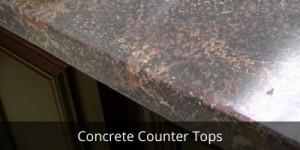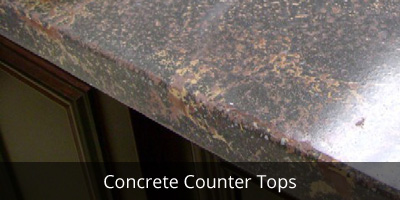 shape imaginable and it can also be adapted to complement any decor. Because concrete offers limitless versatility and longevity it remains very popular with both homeowners and builders.
The key to successful concrete countertop construction is the quality of the supplies
That's why Sealant Depot carries all the supplies you need to create a concrete countertop. What's more, you're not on your own, and our team of decorative concrete specialists can help you select from:
Concrete Counter Mixes - the recommended concrete to be used to create concrete counters
Dry Pigments - colors can be mixed throughout the cement to create integral color solutions or mix in on the top
Color Paste - the paste can match colors to fill air holes or the voids
Natural looking penetrating sealers - has a "natural look" and is designed to reduce water absorption
Satin Sealers - help protect the finished surface of the concrete countertop from oil and water-based stains and enhances the colors
Beeswax - food grade Beeswax to help prevent stains and enhance the color of concrete surfaces
Countertop Forms - create the shape of the concrete countertops.
The most practical concrete countertop applications include:
Bathroom Countertops
Kitchen Countertops
Counters for Reception Areas
Custom Cement Work Counters
Buy Countertop Supplies

We Offer

Concrete Counter Mixes
Dry Pigments
Color Paste
Natural looking penetrating sealers
Satin Sealers
Beeswax
Countertop Forms
Color brings your concrete countertops to vibrant visual appearance
Sealant Depot carries the Buddy Rhodes concrete color system. Here are twelve uniquely beautiful color choices include:
Brick

Bone
Sand
Slate
Sky
Straw
Wheat
Universe
Ash
Earth
Mushroom
Moss
Smoke
Wine
Chocolate
Coal
They sound great, don't they? You can almost feel the softness of Moss and the earthy tone of Sand. Get started now and take advantage of all the concrete countertop supplies we offer you at Sealant Depot.
We're here to support your concrete counter top projects
You can review a wide range of concrete countertop variants and options in our online shop. And don't forget we have concrete product specialists who will help you identify the countertop design appropriate for your project.
Ask Our Decorative Concrete Specialist
Our concrete product specialists can help you identify the concrete countertop supplies useful for your project. Contact us or submit your question to ask our Decorative Concrete Specialist about the concrete supplies needed for your project.

Call (856)829-7325 to Order