Dry, Liquid, and Custom Concrete Color Supplies
Integral colors are color pigments mixed into the concrete to create a strong color base. The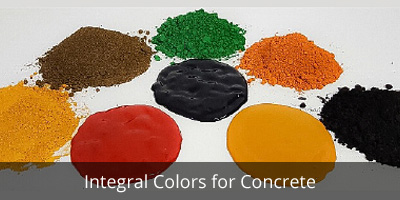 pigments are available in a variety of standard colors in a dry or liquid form.
Integral Concrete Colors
Liquid integral colors are blended on site at Sealant Depot and bucketed for use according to your requirements. Compared to powder and granular pigments, liquid colors have a superior dispersion rate to ensure a quick and uniform mix within the concrete, with far less streaking, and less waiting. Here are some concrete colors, click to download the PDF color chart:
We Offer

Dry Pigment Integral Colors

Liquid Integral Colors

Custom Integral Colors
Custom Liquid Integral Concrete Colors
*Custom colors can be achieved and Sealant Depot can match other manufacturer's color charts. Contact one of our cement specialists, tell us what you are looking for and ask about the pricing.
Applications for Integral Colors
Coloring newly placed concrete and stamped concrete
Integral colors can help create the effect of antiquing concrete
Creating the appearance of natural stone
Ask Our Decorative Concrete Specialist
Our concrete product specialists can help you identify the supplies to color your concrete. Contact us or submit your question to ask our Decorative Concrete Specialist about concrete supplies.

Call (856) 829-7325 to Order