Concrete Caulks, Sealant, and Fire-stopping Supplies
Concrete Caulks & Sealants
Depending on the product manufacturer, concrete caulks, and concrete sealants are the same thing.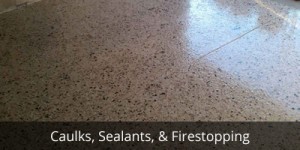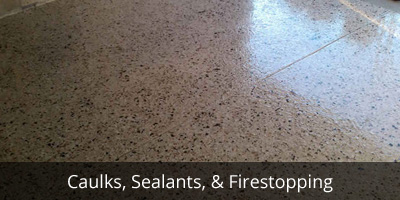 These products are used masonry work of indoor and outdoor projects. Most caulks will adhere to brick, concrete, ceramic, granite, and slate. Caulk is commonly used for concrete foundations, concrete sidewalks, driveways, patios, steps and other masonry projects. Concrete caulking is applied with a caulking gun.
Tested and Proven in the Field
Our sealants and caulks have been tested in extreme conditions and are designed to provide the best adhesion and sealing to a variety of materials. Their long-term performance is guaranteed by the nation's best manufacturers. While no structural exteriors should rely solely on caulks and sealants to keep water out, many projects require caulk either to mask an expansion joint between materials or as the first line of defense against leakage.
Firestops
Fire-stop products are cement-based and fill the voids in construction joints, walls, and floors. Fire-rated, cement-based compounds mix with water to form a mortar that may be applied by pouring, pumping, or troweling. Fire barrier water-based sealants are also applied with a caulking gun.
A firestop is made of various components used to seal openings and joints in a fire-resistant wall or floor assemblies. Firestops are designed to restore the fire-resistance of wall or floor assemblies, impeding the spread of fire by filling the openings with fire-resistant materials. Unprotected openings in fire separations cancel out the fire-resistance ratings of the fire separations, allowing the spread of fire, usually past the limits of the fire safety plan of a given building.
Caulking Guns
The best way to dispense caulk and sealants is with a caulking gun. Caulking guns can be manually discharged, electric, and even cordless caulking guns. When using a basic caulk gun, you simply push the handle forward as you squeeze the trigger to run a bead of caulk. With battery powered caulk guns, the handle will move forward at a constant speed as you push the trigger. Some battery powered caulk guns have a variable speed control that allows you to adjust the speed of the caulk as you need.
We Offer

Concrete Caulk

Concrete Sealtants

Firestops

Caulking Guns
Ask Our Decorative Concrete Specialist
Our concrete product specialists can help you identify the concrete products useful for your project. Contact us or submit your question to ask our Decorative Concrete Specialist about the concrete supplies needed for your project.

Call (856) 829-7325 to Order