Stamps for Stamped Concrete Projects
Sealant Depot has a large selection of stamps to rent for your stamped concrete projects. You'll be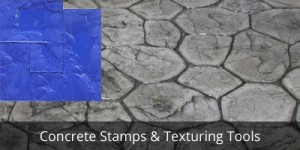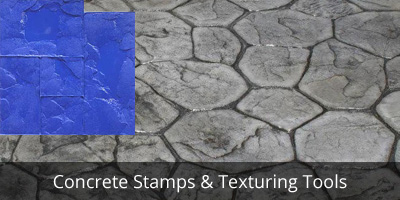 amazed when you see how spectacular stamped concrete can transform your hardscape.
At Sealant Depot it's easy to Rent Concrete Stamps
Sealant Depot carries different concrete stamp patterns. Concrete stamps are manufactured in different patterns that mimic the aesthetic qualities of natural stone. Stamp patterns include brick, slate, flagstone, cobblestone, fieldstone, fan stone and many more. Patterns are commonly made to resemble stone yet these concrete stamps can also be made to resemble wood, rock salt finishes, broom finishes, fossils, or leaves. Here are a few of the stamped concrete patterns that we carry:
Slate Patterns
Stone Patterns
Cobblestone Patterns
Brick Patterns
Borders & Bands
Medallions
Rustic Wood Look
If you look around at what's going on around homes these days you'll quickly notice that stamped concrete is more popular today than ever before. The technique of concrete stamping originated on the West Coast back in the 1950s. Decorative stamping has now become all the rage.
We Offer

Availability of better concrete stamp mats.
Better concrete texturing tools that produce very realistic results.
Lower cost for decorative uniqueness in concrete.
Giant cookie cutters with handles?
In the early days, concrete stamps were made from cast aluminum and looked pretty much like giant cookie cutters with handles. They were excellent for imprinting basic brick or stone patterns in fresh concrete. But they didn't result in any texture making the results look unrealistic compared with what you can achieve today. Today, most concrete stamps, or stamp mats, are made of durable polyurethane and molded from the real materials they mimic, resulting in stunningly authentic textural effects.
Stamped Concrete Applications
Stamped concrete allows you to use the concrete as a structural element while providing a designer and custom surface to match your design and decorative style needs.
Pool decks are the main visual element surrounding the outdoor space and can act as a patio surface to entertain, set up a grill or even design a complete outdoor kitchen and living area.
A stamped concrete patio gives you the look and texture of a stone patio for a lot less than the real thing — up to 50% less than the cost of natural slate or limestone.
Driveways and walkways - are a popular application because stamped concrete is low-maintenance — the "stones" won't settle over time, creating uneven surfaces, and there are no grout or joints that can open up to let grass and weeds sprout
Ask Our Decorative Concrete Specialist
Our concrete product specialists can help you identify the decorative concrete stamps and supplies you need for your stamped concrete project. Contact us or submit your question to ask our Decorative Concrete Specialist about concrete supplies.
So don't delay in renting the concrete stamp that will give you the texture and the finish you have in mind.

Call (856) 829-7325 to Order