Concrete Admixture Supplies
Sealant Depot carries concrete admixture supplies that are used to improve the workability, durability, and enhance the performance of concrete.
Concrete Admixtures are: Ingredients added to concrete (other than cement and water) that will help control and enhance cement for the needs of specific applications.
Concrete time and temperature issues: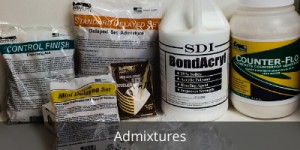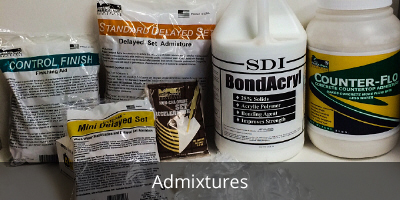 Fresh concrete is sensitive to both time and temperature. A specific type of concrete admixtures can be added to the concrete mixture to improve the cementing process when:
Delays in the project occur
Changes in temperature occur.
Some types of admixtures are used to improve the workability, bonding, and coloring of concrete. The chemicals added to cement can do a variety of things to change the properties of cement – such as reducing the water content in the cement and slowing the setting rate.
Look into our products for solutions:
Sealant Depot offers concrete admixtures that make better concrete and make construction practices easier and safer. The ultimate goal is to have buildings and structures that deliver better value. Our concrete admixtures work with to decorative concrete contractors, pool contractors, concrete pre casters, ready mix producers, concrete pumpers, and ICF contractors.
We offer

Set Retarder
Specialty Admixtures
Superplasticizers
Do you need to prevent early hardening, improve the workability, ensure the quality of concrete during mixing, or overcome unexpected time delays and temperature changes?
Concrete product specialists can help you identify the admixture appropriate for your concrete or stamped concrete project. Sealant Depot carries a number of FritzPak admixtures in our online shop.
Ask Our Decorative Concrete Specialist
Our concrete product specialists can help you identify the concrete admixture supplies appropriate for your project. Contact us or submit your question to ask our Decorative Concrete Specialist about concrete admixtures and the supplies needed for a hardscape project.

Call (856) 829-7325 to Order