Atlantic City Pool & Spa Show
Sealant Depot exhibits at this convention in the Atlantic City Convention Center. More information 
---

Concrete Decor Show
The Concrete Decor Show i sponsored by Concrete Decor Magazine and has shown a prominent and impressive growth rate.
This is the only international event dedicated to the commercial concrete and masonry construction industries! More information
---
World of Concrete Show
The World of Concrete show is one of the largest trade shows for concrete construction, repair, and waterproofing is the World of Concrete.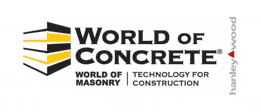 This show is an absolute for anyone who is serious about growing their business in concrete construction of any sort.
For the trade show dates, list of exhibitors, seminars and classes